We began in 1968 in a small room in the Campus Center (now a janitor's closet) as a carrier-current station (could only be picked up in the dorms). It was known as WSSC then. In 1976, we moved to 91.7 FM as WMWM with all of 10 watts (increased to 130 watts 2 years later), with studios eventually moving to the Sullivan Building basement. In 1984, the station returned to the Campus Center with new studios in the basement.

WMWM has been playing alternative music for years--Rock, Local bands, Jazz, Blues, Folk, Rap, Latin, Doo-wop, and much more. Some of our DJs who have gone on to careers in radio include Chris Kennedy (WFNX, WROR) and Angie Creeden (WFNX).

Powered by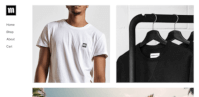 Create your own unique website with customizable templates.